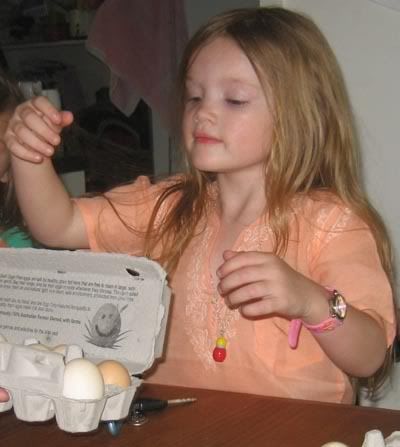 This is my gorgeous daughter, Willow. She is at my Auntie's, with her/my cousins after having gathered some eggs from their hens. We were on our way to Melbourne at this stage and she wanted to take some eggs with us, but my Auntie convinced her to take some hibiscus flowers instead.
As I've explained before, A has Adult ADD. He thinks that he possibly might have been diagnosed as a child, but that didn't happen until he was in his early 20s.
So, the point of this post is to document the official point at which I began to worry that Willow has ADD of the inattentive type, as opposed to the hyperactive type. She has already seen a speech pathologist about her word finding issues, last year at school. Word finding issues is something that A had, and continues to have a problem with. When I'm tired or stressed I can't remember the word I want to use, but Willow and A are like that all the time.
The other day she was trying to find the word 'ice cube tray' to use with her Nan – it was almost comical to hear her explain 'the thing you put water in to make it get hard in little pieces'. The speechie said she once described a hose as a 'water rope'. Amusing, but not good for her self esteem or social skills.
The difficulty is that a lot of the symptoms of ADD can be attributed to simply being a child. She could easily be said to have all of the symptoms below, but what 4, nearly 5 year old doesn't?
* Has difficulty following instructions
* Has difficulty keeping attention on work or play activities at school and at home
* Loses things needed for activities at school and at home
* Appears not to listen
* Doesn't pay close attention to details
* Seems disorganized
* Has trouble with tasks that require planning ahead
* Forgets things
* Is easily distracted
From here: Symptoms.
Perhaps I'm just being a paranoid mother, medicalising her and her behaviour? Perhaps her behaviour is completely normal for a child her age? She's a girl, right, there are far fewer girls with ADD than boys. She's never been so impulsive as to run off in car-parks. She's a good girl. I should be worried about Dexie who goes like the clappers from dusk til dawn. Regardless, I'd like to learn some better strategies for dealing with her more frustrating behaviour.
I don't mean to imply that there is anything wrong with A or Willow quite the opposite. Of the things I love about A is the way he thinks, that he doesn't hold a grudge, his creativity, his sense of humour. ADD isn't necessarily a bad thing, but I need to educate myself now, as a parent.
So this is where I'm at.